Recruiting Challenges We Solve
A recruiting partnership with Kinetix means that businesses are equipped to meet any hiring challenge, no matter the scale or specificity.
High Recruiting Costs
Kinetix offers scalable models and subscription-based pricing, ensuring you only pay for the services you need, avoiding the overheads of in-house teams and inefficient staffing agencies.
Scalability
Whether you are looking to scale up due to rapid growth or seasonal demand or your need to scale down during slower periods, our services can adjust to your varying recruitment needs.
Quality of Hires

We employ proprietary technology and assessment methods to ensure candidates are a skill-fit and cultural and organizational match.
Market Expansion

Companies entering new markets will benefit from our localized recruitment expertise, ensuring talent acquisition aligns with regional nuances, legal compliances, and cultural dynamics.
Special Projects
For organizations undertaking special projects requiring specific skill sets, our RPO ensures access to a diverse talent pool, ensuring the right expertise is acquired for project success.
Talent Shortages
In industries facing skill gaps, RPO provides advanced sourcing and engagement strategies, ensuring access to passive and hard-to-reach candidates.
Traditional Staffing Agencies
Vs.
RPO Companies
| | Staffing/Recruitment Agencies | RPO Companies |
| --- | --- | --- |
| Service Scope | Primarily focused on sourcing and placing candidates. | Holistic talent acquisition strategy, end-to-end recruitment solutions. |
| Customization | Standard services with limited customization. | Highly customizable to fit the client's specific needs and objectives. |
| Cost Structure | Fee per placement, which can become costly for large-scale hiring. | Cost-effective, often with subscription or project-based pricing. |
| Recruiting Technology | Limited use of technology, mainly relying on traditional recruitment methods. | Use of advanced, proprietary technologies to enhance the recruitment process. |
| Duration | Short-term | Can be short-term, long-term, or ongoing |
| Client Relationship | Functions more as a vendor, focusing on immediate hiring needs. | Acts as a strategic partner, aligning with the client's long-term objectives. |
| Candidate Experience | Managed by agency, separate experience | Integrated, consistent candidate experience |
| Employer Branding | Typically not involved in employer branding or candidate experience. | Involved in enhancing the employer brand and candidate experience. |
| Analytics & Reporting | Offers limited insights and reporting on the recruitment process. | Provides detailed analytics and reporting to optimize the hiring process. |
What Sets Kinetix Apart From Other Recruiting Firms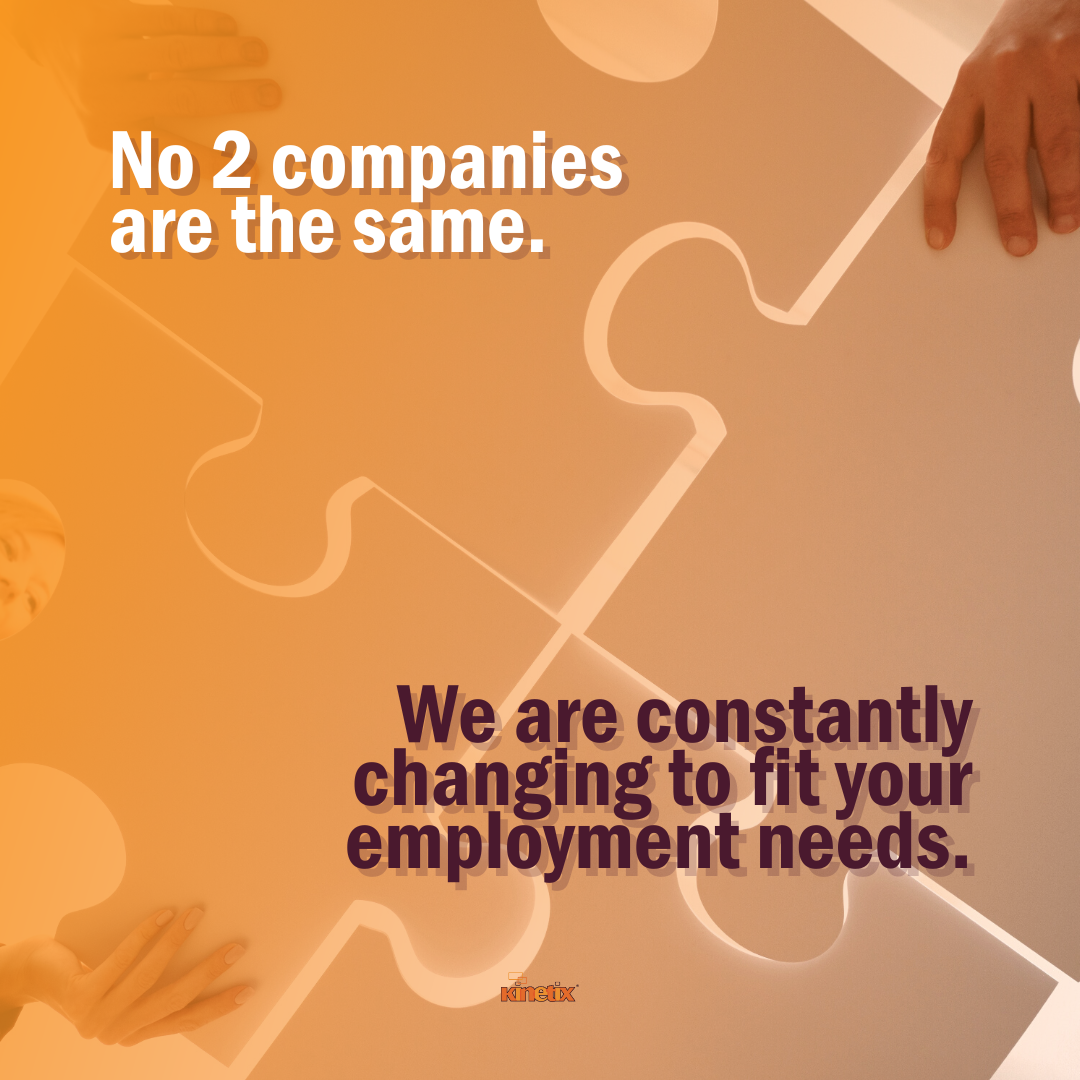 Highly Specialized, Dedicated Recruiting Team
Every Kinetix recruiter has industry-specific knowledge and expertise, guaranteeing a deep understanding of your hiring needs. We're not just filling positions; we're ensuring every hire is a strategic addition to your team.
Flexible Recruiting Partnerships



Flexibility is embedded in our DNA. In addition to Recruitment as a Service and Direct Hire Staffing, Kinetix boasts the most adaptable RPO models in the industry. We tailor our services to align seamlessly with your specific needs, objectives, and budget.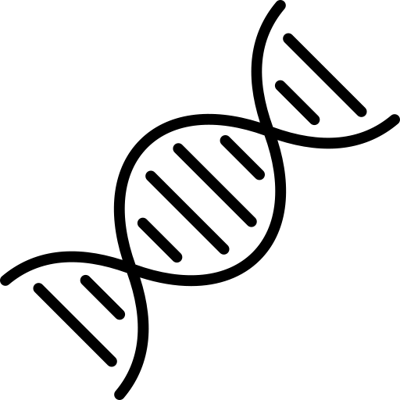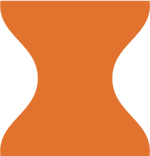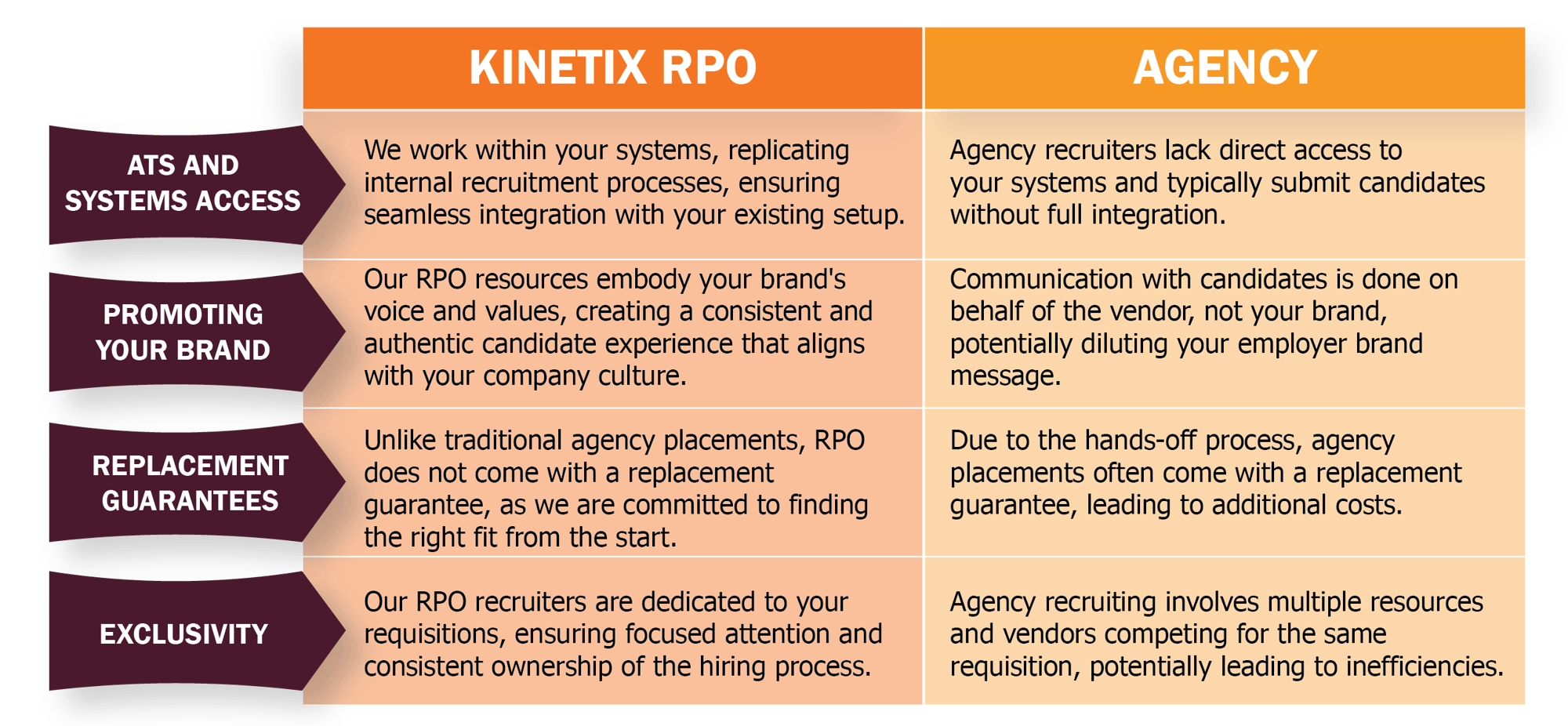 Extension of Your In-House Team
Our recruiters work hand-in-hand with your internal departments, bringing an enhanced level of expertise and efficiency while maintaining the authenticity of your brand. With Kinetix, you gain a partner fully invested in realizing your specific recruitment and organizational goals.
Powerful Recruiting Technology

We utilize proprietary recruiting technology that transcends traditional methods, ensuring efficiency and precision in identifying the best candidates. Our tech-driven approach means data-backed decisions, streamlined processes, and hires that fit and excel.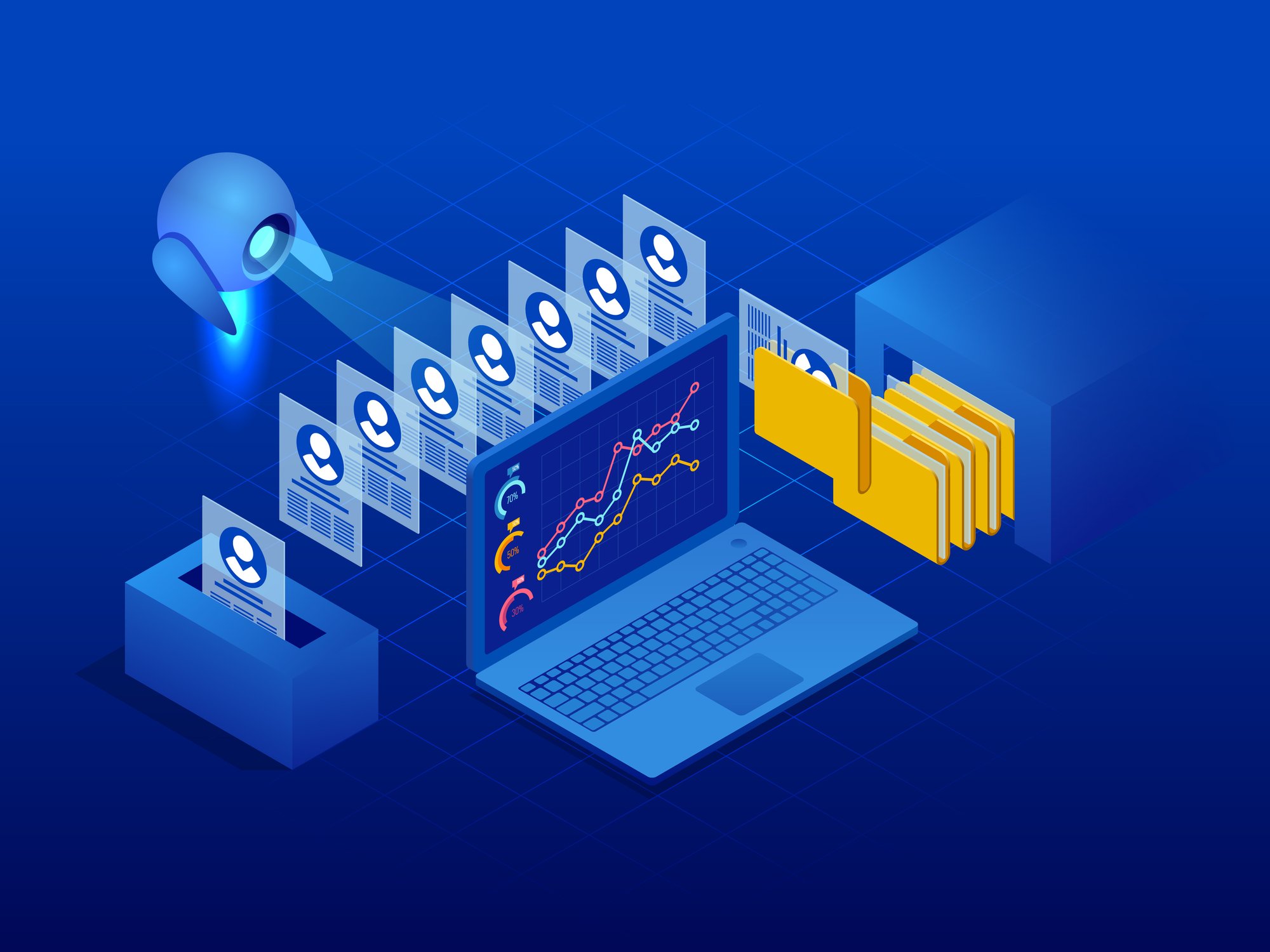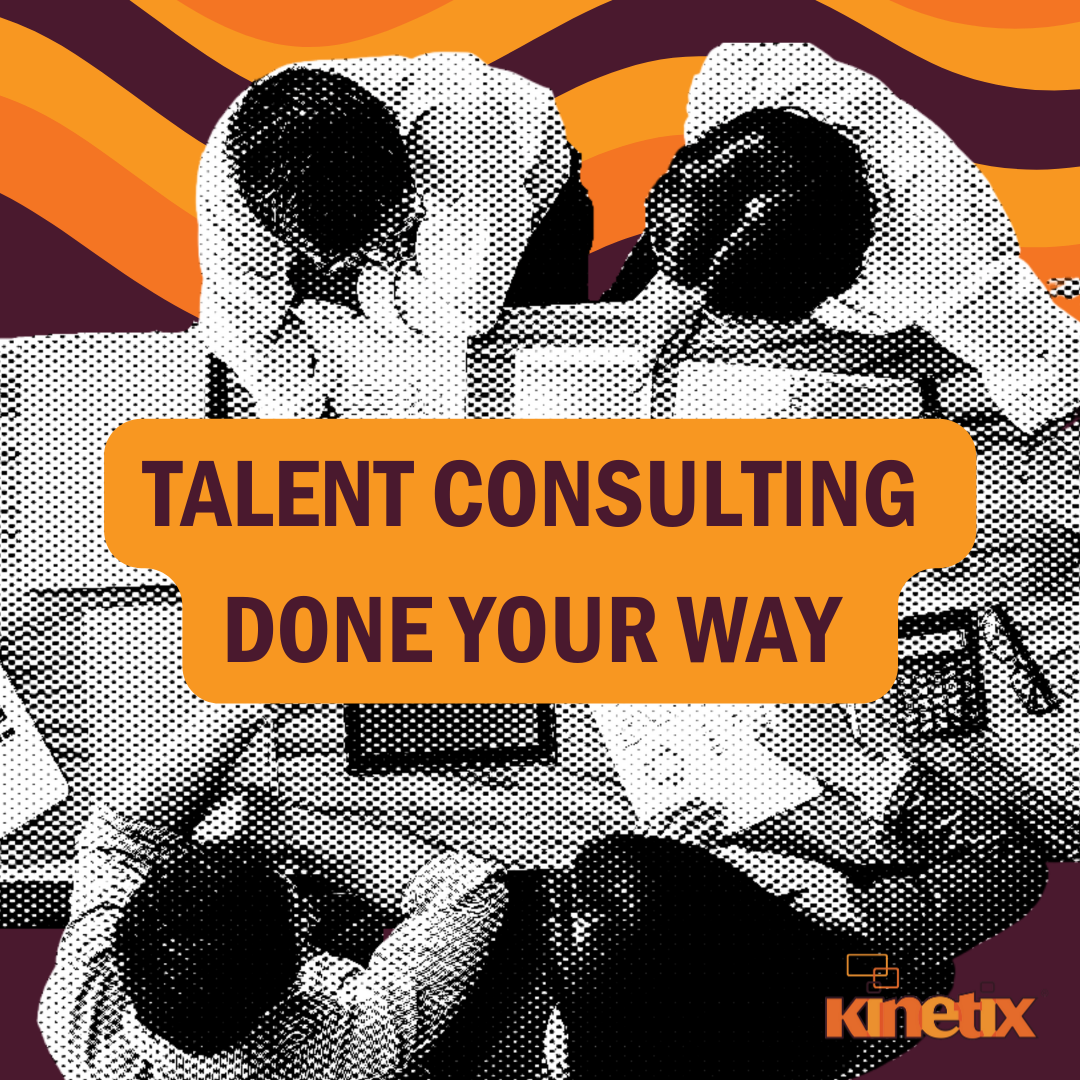 On-Going Talent Management

Our commitment doesn't end with the hiring process. Kinetix provides ongoing talent management, focusing on your staff's continuous development and engagement.
Employer Branding
We're dedicated to showcasing and elevating your brand in the eyes of potential candidates. Our strategies are crafted to highlight your organization's values, culture, and opportunities, ensuring the attraction and retention of top-tier talent.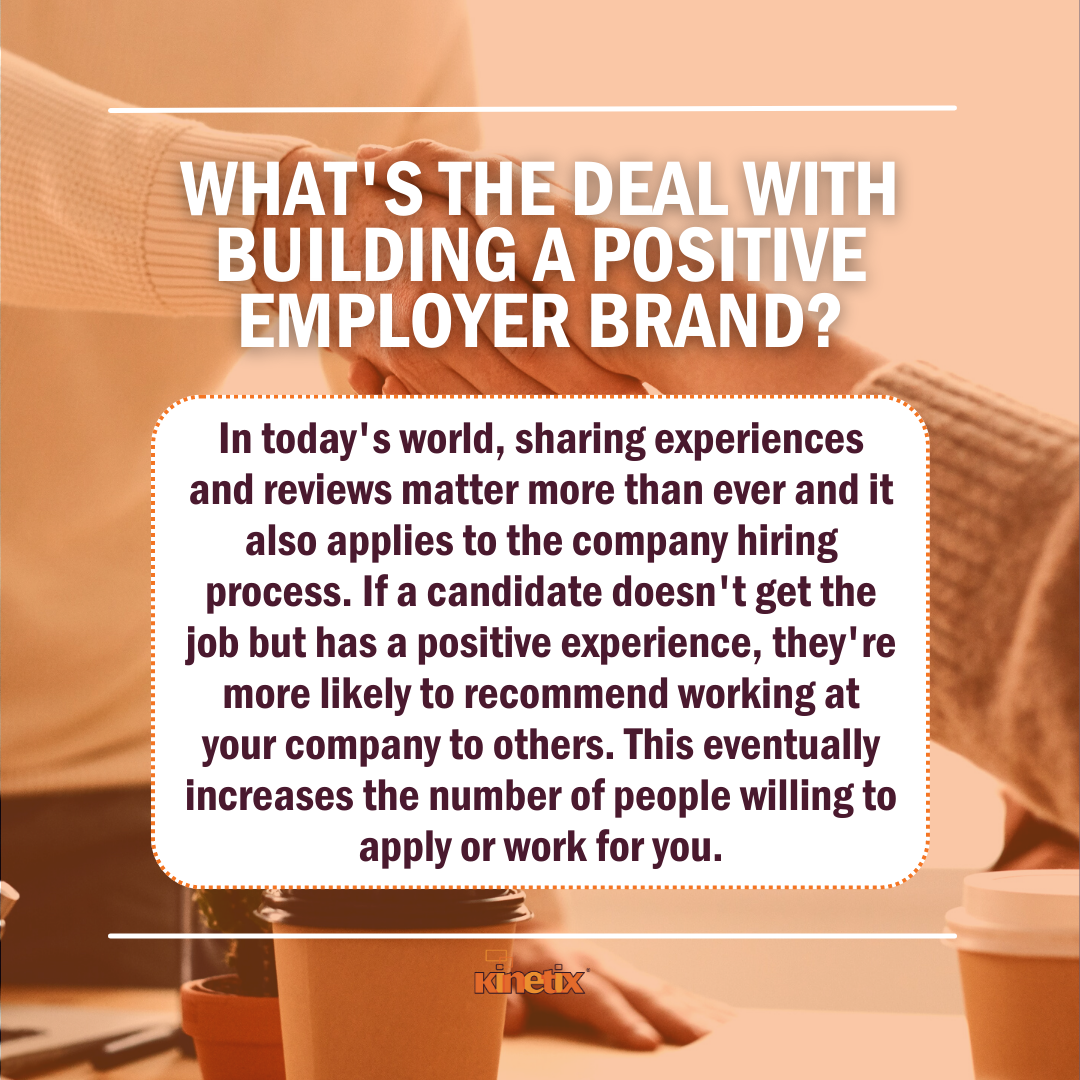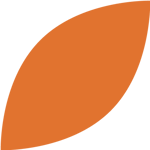 How We Partner Up
Our services aren't just comprehensive—they're customizable. Scale our services up to accommodate extensive recruitment drives or scale down for more specialized or focused hiring needs. Whether you need comprehensive recruitment management from start to finish or specific segments of the hiring process, we've got you covered.

For clients keen on a direct hiring approach, we also offer expertise in direct hire staffing. No matter the size or specificity of your hiring challenge, Kinetix crafts a partnership tailored to your unique needs.

What Industries Can Benefit From RPO?
RPO services are versatile, catering to a variety of industries. At Kinetix, we have tailored solutions to meet diverse recruitment challenges across diverse sectors. Technology, Healthcare, and Finance are just a few of the industries that benefit from our RPO services.
How Does RPO Improve Recruitment Efficiency?
RPO enhances recruitment efficiency by streamlining and optimizing every aspect of the hiring process. Our approach involves advanced technology, proven strategies, and utilizing the expertise of our specialized recruitment team. We reduce time-to-hire by identifying and engaging qualified candidates swiftly and effectively. Furthermore, our customized solutions ensure that each recruitment campaign is tailored to your specific needs, eliminating redundancies and enhancing the speed and quality of talent acquisition. The result is a more agile, responsive, and efficient recruitment process that aligns with your organizational objectives and market dynamics.
Why Should We Consider RPO Over Traditional Recruiting Methods?
Opting for RPO over traditional recruiting offers serious advantages. With Kinetix, you gain a partner, not just a service provider. We offer bespoke, scalable solutions that align with your unique business objectives and industry specifics. Our advanced, proprietary technologies and data-driven approach ensure precision in targeting and attracting top-tier talent, reducing the time and cost per hire.
Is RPO Cost-Effective Compared to In-House Recruiting?
RPO with Kinetix offers a significant cost advantage compared to in-house recruiting. Our tailored, scalable solutions mean you pay for the services you need, avoiding the overhead costs of maintaining a full-scale, internal recruitment team.
See what our clients have to say
"Lee Health's partnership with Kinetix has been exceptional. We engaged them when additional resources were needed during a period when staffing demands outweighed internal capacity (i.e., high vacancy rate, contract labor, unreasonable recruiter to open requisition ratio, hospital growth/expansion). Kinetix supplemented our nurse recruitment team in filling positions.

Thanks to their assistance, we were able to better level load requisitions per recruiter, source additional talent and reduce bedside RN vacancies. Their commitment to our success made a substantial impact which resulted in ​397 positions filled by Kinetix (2019 – 2023). Kinetix is a trusted, professional, and efficient recruitment partner."
Kristy Rigot, System Director Human Resources
Lee Health
"Kinetix was able to bring in professional recruiters all at once and ramp up very quickly... If you have a lot of jobs to fill, you need to fill them quickly, and you don't want to take the risk and invest the time of doing so internally, an RPO [partnership] is for you."
Jim Bennett Vice President of Human Resources
Landis+Gyr
"To accomplish what we have, in the midst of the challenges of the last few years, is a testament to the people who work here, which includes the people who recruit here: Kinetix"
Vice President of Human Resources
#2 Children's Hospital in the US
"We feel so strongly about our partnership – we cannot imagine not having Kinetix as a partner over the last couple of years. We would be in a different position. When talking to colleagues, they couldn't flex fast enough, they couldn't find the 200 graduate nurses because they didn't have the capacity internally, but we did. We are incredibly grateful for this partnership and that we are able to deliver on our mission in a huge way, and everyone at Kinetix deserves credit for that."
Executive Leader
#2 Children's Hospital in the US
"Recruiting healthcare talent is harder than ever. When I landed in my new HR leadership role at Compassus, I turned to the Kinetix RPO team for a smart recruiting partnership. Their recruiting expertise, understanding of our culture, and ability to recruit under our brand contributed greatly to our success. Our year-long RPO project with Kinetix was a great interim solution as I determined my long-term strategy and grew my internal recruiting team."
KIRSTY LEYLAND
SVP & Chief Human Resources Officer at Compassus
"I have to say I'm quite happy so far. Our new hire you brought us has been very complimentary, and other leaders in my area have been very impressed. I'm excited about our partnership and work together to come!"
Hiring Manager
North GA Hospital System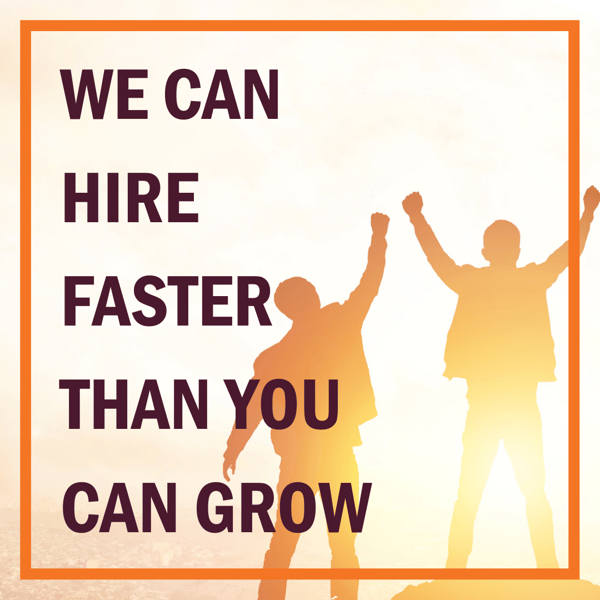 Let's Have a Conversation